Victorian Kitchens
Cabinets, Design Ideas, and Pictures
Victorian kitchens draw their designs from the ornate furniture styles named after Queen Victoria of England who reigned from 1837 to 1901. Victorian kitchen cabinets are graceful and elegant with elaborate carvings and ornamentation. Scroll down to see the full gallery.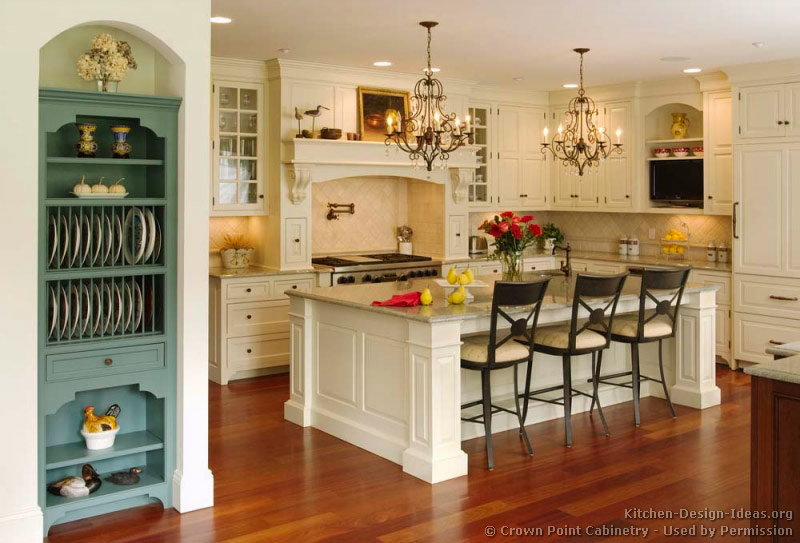 The Victorian influence is apparent in this Crown Point kitchen featuring creamy white cabinets, a mantel style wood hood, and a large island with chandeliers overhead. Rich hardwood floors and a blue nook with a plate rack and decor add color and warmth to the room. Finer details in the woodwork -- including trim moldings, shaped feet, and arched frames -- provide a furniture-like appearance to the cabinetry.
[+] More Pictures
Historical Remodel:
While today's large, open kitchens bear little in resemblance to cooking quarters of 19th century England, one can still tap into the historic beauty and flair of a Victorian style kitchen. With proper planning and execution, you can achieve a beautiful Victorian kitchen design that is both practical and picture-perfect, fit for the kings and queens of your house.
Choosing the Mood: Many Victorian homes have a formal, almost somber appearance, indicating a sense of royalty, wealth, and weight. Dark oil finishes and heavy proportions resembling Gothic and empire styles can contribute to this mood. Victorian colors are often rich earth tones like deep reds, greens, blues, purples, and browns. On the other hand, by using a brighter color palette, you can introduce a more comfortable, "English country" feel to the kitchen with less formality. The mood is entirely up to you.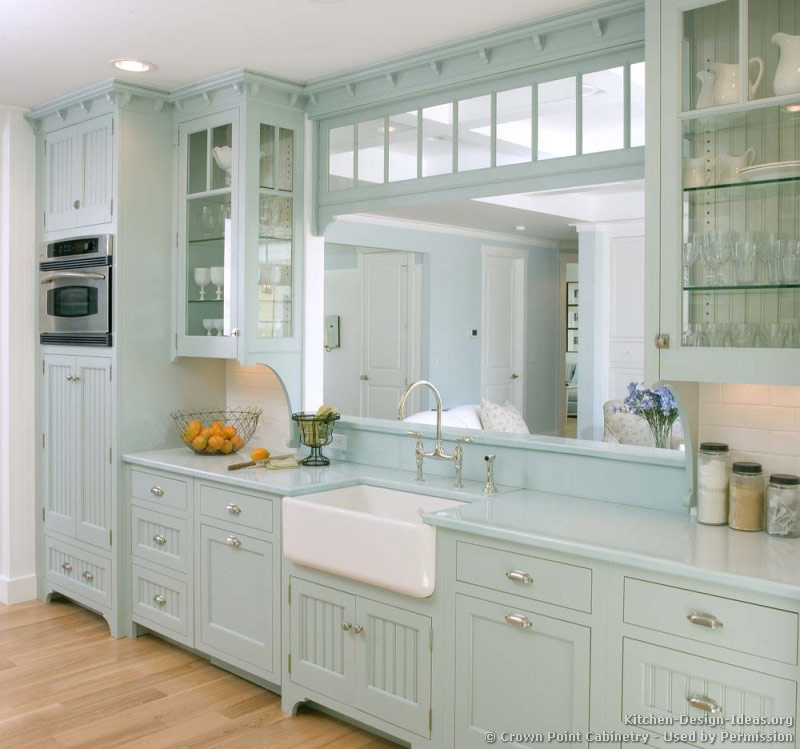 This award-winning
pale blue Victorian style kitchen
features inset cabinets designed by Crown Point. A white apron sink is tucked neatly into the matching blue countertop, with its bridge-style faucet centered along the large pass through window. A white subway tile backsplash, glass cabinets, and light wood floors combine to give this dreamy kitchen a soft and bright ambiance.
[+] See more pictures of this kitchen
Material Selection:
Victorian designs incorporate a wide variety of materials, including wood, copper, brass, stone, and stained glass. The kitchen cabinetry can be constructed of Ash wood, Butternut, Maple, painted wood, Oak, Walnut, and Rosewood. An apron sink in cast iron or soapstone is my favorite choice for a Victorian sink. Excellent countertop materials include granite, soapstone, marble, and wood. To soften the look, introduce some plush upholstery and draperies made of velvet, silk, and tapestry fabrics in keeping with the period style.
Delightful Decorating: Victorian cabinets often feature decorative corbels supporting the upper cupboards. Occasionally you will see carved cabriole legs with ball and claw feet beneath the kitchen island to make it look more like a piece of furniture. Gentle s-curves, angles, and straight lines are set off by inlay moldings, rosettes and wood carvings of flowers, leaves, or scrolls. Glass cabinet doors, dovetailed drawers, and brass or glass knobs complete the look.
Kitchen Design Photos: Below are some pictures featuring Victorian kitchen cabinets. If you enjoy the authentic beauty and period influence of these Victorian kitchens, you might also enjoy the historic Shaker, Craftsman and Arts and Crafts kitchen galleries as well. If you love the ornate look, be sure to check out the Luxury and Gourmet kitchens too. Enjoy the photos!
«« Back to Kitchen Cabinet Styles Main Gallery


01

02

03

04

05

06

07

08

09

10

11

12

13

14

15

16

17

18

19

20

21

22

23

24

25

26

27

28

29

30
You are viewing the Victorian gallery...

31

32

33

34

35

36

37

38

39

40

41

42

43

44

45

46

47

48

49

50

51

52

53

54

55

56

57

58

59

60
---
More Kitchen Styles: Return from Victorian Kitchens to Kitchen Cabinet Styles for more ideas and inspiration.
---