Stone of London
Portfolio Pictures of Kitchen Countertops
Stone of London is a UK-based importer, supplier, and fabricator of natural stone and other surface materials. They have worked on many beautiful projects; below is a sampling of their residential kitchen portfolio.

More Pictures: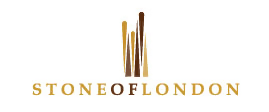 Address: Unit 9, Parkbury
Handley Page Way, Colney Street
St Albans, Herts, AL2 2DQ, United Kingdom
Tel: +44 (0) 1923 856 100 | StoneofLondon.com
Also on: Twitter | Facebook


In the USA:
New York Stone | New Jersey
31-45 Howell Street, Jersey City, New Jersey 07306
Tel: 1.201.656.6200 | NewYorkStone.com

---
Type of Business: Natural Stone Importer and Supplier | Fabricator of Kitchen Countertops, Flooring, Backsplashes, and Other Surfaces

Company Profile: Stone of London is the UK's premier importer, supplier, and fabricator of natural stone. The company is renowned for its work on large projects from the Olympic Athlete's Village to the Four Seasons Hotel in London, while the company's primary business is in private residential developments.

Stone of London is known for the exoticness of their stones, sourcing a wide variety of granite, marble, limestone, and and other materials from all over the world. Their large stock of natural stone is individually selected for quality and consistency, and they can handle both small and bulk orders. The company works in close affiliation with several of the largest and most experienced independent buyers of natural stone globally, including New York Stone.

A vast swathe their stone goes to kitchen countertops/worktops, kitchen flooring and kitchen tiles. Whether you are an architect, high-end hotelier, developer, or homeowner, be sure to give Stone of London a good look.

---