A Small Kitchen Design
with Modern Wood Cabinets

Small Kitchen Design: With essential cooking appliances in close proximity, this space saving kitchen features dark wood with glass cabinets, a minimalist chimney hood, excellent lighting, and an inviting color scheme.
Additional Features: An angled floor transition, built flush, separates the tile kitchen floor from the angled hardwood in the main living area. Hanging rails on the backsplash allow for easy access to everyday utensils, while a clear glass backsplash protects the entire wall behind the cooktop and hood. Above the kitchen table you'll notice a beautifully unique chandelier. Note also how the frosted glass pantry cabinet sits back flush with the upper cabinets to provide more floor space.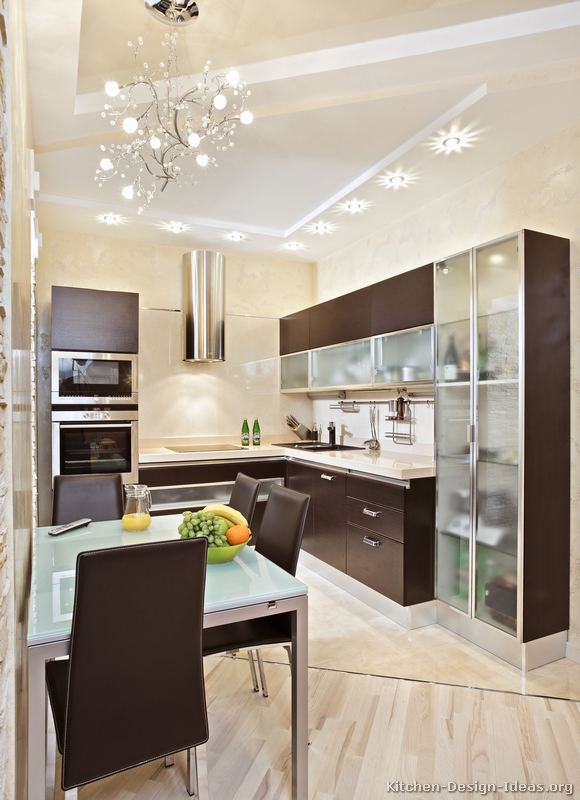 Related Pictures: This small kitchen design photo is #39 (on page 2) of the Modern Dark Wood Kitchens gallery. You may also enjoy the Modern Kitchens article and photo collection.
Daily Updates: To get Kitchen of the Day updates, visit Kitchen Ideas on Facebook and click "Like" to connect with us.
Even More Updates: You should also follow Kitchen Ideas on Twitter to stay up to date with everything happening on this site. See you there!
"Modern Monday" Kitchen of the Day. Published July 2, 2012