Modern Light Wood Kitchen Cabinets
Pictures & Design Ideas
Natural wood can brighten any kitchen. These pictures of light wood kitchen cabinets show that modern styles do not have to be cold and gray. Scroll down to see the complete gallery of contemporary design ideas in both lightly stained and unstained wood.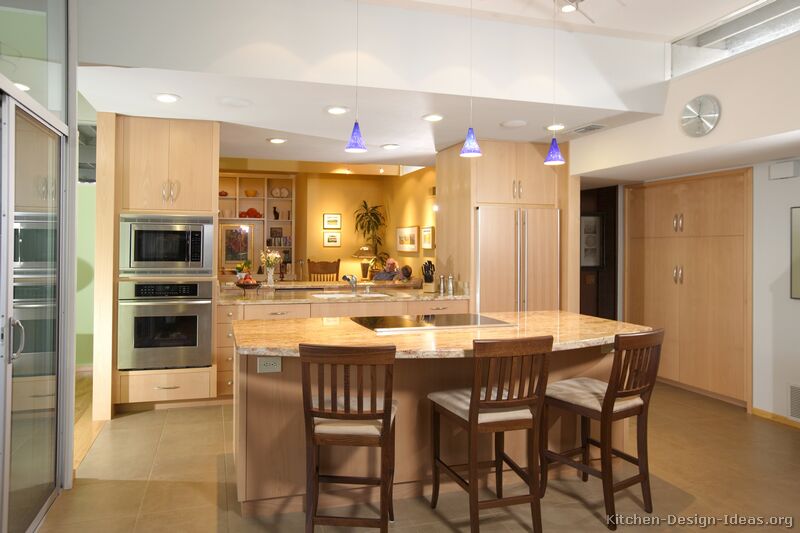 This luxury kitchen enjoys lots of natural light, an open plan layout, and light wood cabinetry. The interplay of natural light with natural wood gives this modern design a fresh ambiance. Don't you agree?
[+] More Pictures
.
Neutral Tones, Decorative Freedom:
If you love wood and want a bright and cheery environment, then a beautiful light wood kitchen is a great choice! Light wood kitchen cabinets are perfect for those who want a neutral-toned kitchen that can be accessorized with other colors. Modern light wood cabinets are clean and practical, and will match well with almost any type of kitchen flooring, countertops, walls, and furnishings. If you want to keep a wide range of decorating options available to you, then a beautiful light wood kitchen is a great starting point!
Is it a Trend? Light wood kitchen cabinets are high on the popularity charts for modern kitchen colors. Unlike bolder color tones that can shift with the fashion tides, a well-designed light wood kitchen is a fairly safe choice. Because light wood cabinets tend to be subdued, care must be taken during the design phase to ensure this safe choice does not turn out to be a dull one. You'll find hundreds of photos of modern kitchens on this site featuring light wood cabinets as either the central color or as a contrasting accent in two-tone kitchens.
A Practical Choice. Light, natural wood cabinets are very practical. Dust and crumbs don't scream for attention on neutral-toned cabinets compared to darker surfaces, so light wood kitchens should require less frequent cleaning than dark wood kitchens. Still, cleanliness is key to maintaining the lustre and beauty of the natural wood. Knowing what to expect in advance can pay off with a lifetime of enjoyment in your modern light wood kitchen.
Photo Gallery: This collection includes dozens of modern kitchens with light wood cabinets. If you prefer the older, more classic styles, check out our companion gallery of Traditional Light Wood Kitchen Cabinets. Enjoy the photos!
---
This Kitchen Photo Gallery: Modern Kitchen Design - Light Wood Kitchen Cabinets
More Kitchens: We have thousands of pictures of kitchens in many styles and colors!
---