10 Great Kitchen Appliances for Entertaining
Make Your Party Purr with Efficient Equipment
Kitchen Appliances for Entertaining: Looking forward to hosting family, friends and guests at your home? Then you'll definitely want to know about the top appliances that are fantastic party tools for any special event.
These devices -- from basic food prep gadgets to larger catering-style machines -- help you save time in and out of the kitchen, so you can get back to the important task of enjoying your company.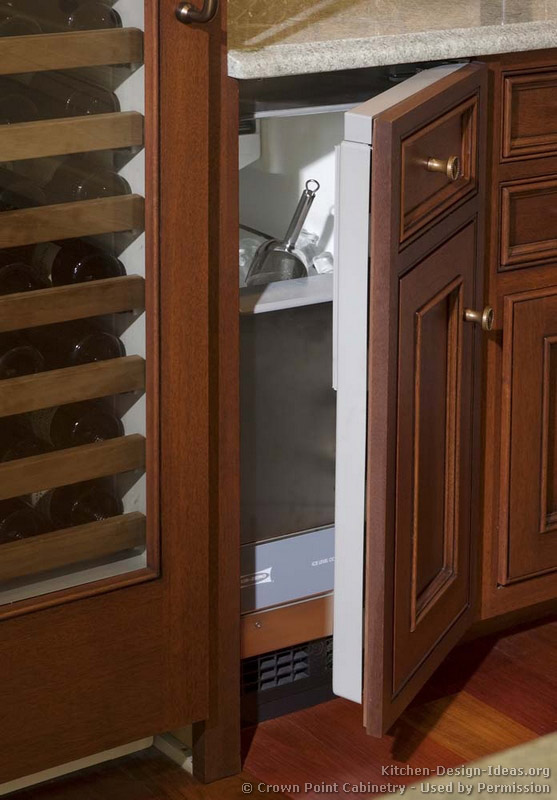 A built-in ice maker is a great help if you entertain frequently.
1. Ice Maker: It's always a pain to run out of ice in the middle of a party, so why not make your own? A dedicated ice maker does that for you, so you'll never have to step out to grab ice from the store. Unlike your fridge, an ice maker has more than enough capacity to make enough ice to satisfy guests and then some.
2. Wine Fridge: For those who entertain guests frequently with the finest wines available, a wine fridge is definitely a must-have. In addition to quick access, your wines will stay at a cool pre-set temperature. Dual-zone units are available for keeping a wider variety of wines around.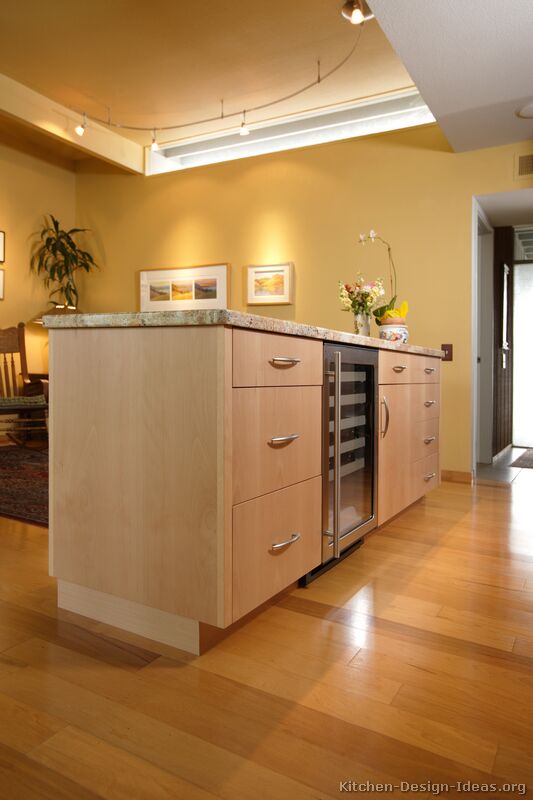 Available in various capacities for unique storage needs, a wine cooler makes a great addition to a kitchen island, if you have the space for it.
3. Food Processor: It takes time to slice, chop, knead and shred those ingredients you need for party appetizers and the like. Why waste time on that when a food processor gets the job done in a fraction of the time? A food processor with a strong motor will last you through countless special events while the variable speeds let you chop, slice and mix almost any food you could think of.
4. Meat Thermometer: Okay, the last thing you want to do is poison your guests! Take all of the guesswork out of cooking chicken, beef or pork with an accurate and highly reliable meat thermometer. The most popular types of meat thermometers include the "ovenproof" thermometer, which remains in the food throughout the cooking process and the instant-read thermometer with a probe that measures internal temperatures quickly.
5. Blender: While food processors deal with chopping, grinding and mixing foods, a blender is the perfect tool for making delicious fruit smoothies, margaritas and even condiments like salad dressings. Don't be afraid to have the two side-by-side during dinner parties.
6. Stand Mixers: When you have guests coming over, prep time is in short supply. Having a mixer in the kitchen makes for a great time-saver, plus it saves you from having to wrestle with a whisk or a spoon. You can use a stand mixer to your advantage for whipping potatoes, beating batter and kneading dough or use a portable hand-held mixer to fluff eggs and mix lighter foods. Don't be afraid to have both types around, as each one has its own set of advantages in the kitchen.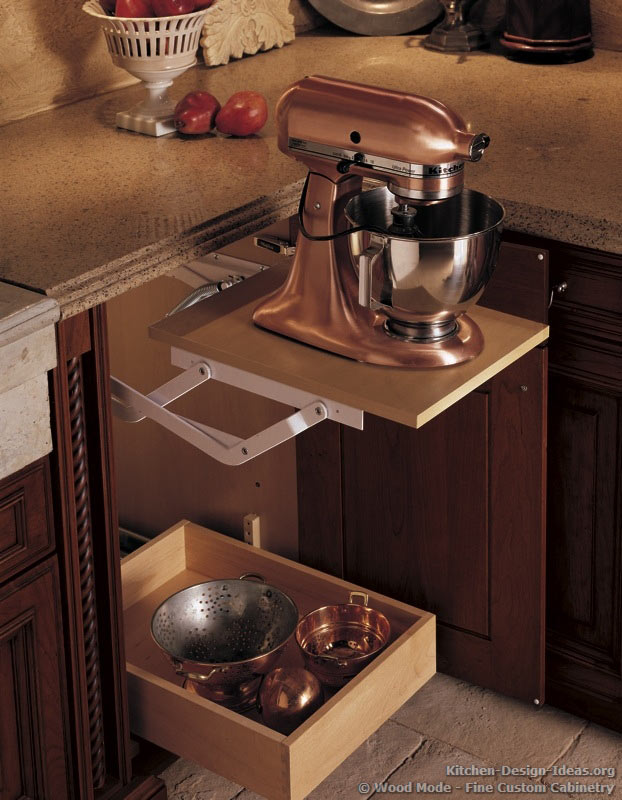 Save time and elbow grease with a stand mixer. This one is built onto a mechanized cabinet lift.
7. Crockpot: Having a crockpot on hand is a quick and fun way of cooking those delicious appetizers. From nachos to chili, beans and meatballs, you can whip up a wide variety of appetizing dishes for your guests in little to no time at all. As a bonus, crockpot cooking gives your dishes that delicious slow cooked taste. At our family parties, a triple crock pot server is a huge hit, and a consistent source of compliments.
8. Fondue Pot: A fondue pot is a fancy and fun way to serve up desserts, entrees, and hors d'oeuvres. Make delicious cheese dips for bread sticks, or try decadent chocolate dessert fondues. If you're going all out for a wedding reception or fancy gathering, take desert a step further with a chocolate fountain!
9. Electric Griddles: No report on appliances for entertaining is complete without mention of the wide array of specialty electric griddles, from full-sized grills to specialized quesadilla makers, hot dog machines, pretzel makers, and waffle irons. You can leave these out on a table or countertop for friends & family to informally serve themselves, or use these griddles in advance to more quickly mass-produce your party food.
10. Ice Cream & Popcorn! It's not just the kids who love a good old fashioned ice cream for dessert. You can wow and impress friends, family and guests by making your own homemade ice cream or frozen yogurt with easy-to-use machines. The best thing about having your own ice cream machine is the boundless creativity; you can make any flavor of ice cream you want in as much quantity as your dinner guests desire. For kids' summer parties, a snow cone maker is a fairly popular choice. 
If you're going all out, give your guests the full Disneyland Main Street experience by also adding a cotton candy maker or popcorn maker to the scene. From simple countertop models to old-fashioned carnival style circus carts, nothing makes a party hop like a popcorn machine. While they aren't exactly appropriate for a formal dinner gathering, carnival-style popcorn machines are perfect for kid-friendly summer parties and wedding receptions.
Get the Party Going
It's not always easy to keep friends and family entertained during those special events. Fortunately, these appliances really make the difference when it comes to throwing that perfect brunch or dinner party. These and other catering-style food prep machines are surprisingly easy to find at various department stores and specialty cooking outlets.
What do you think? Can you suggest any more great appliances for entertaining? Let us know in the comments below, or shoot us an email on our contact page. With a little prep, and a great tool set, your home can be host to some fantastic gatherings!