Designer Interview: Amanda Lavi
Top Products, Kitchen Trends, & Celebrity Clients
Designer interview by John Hake, January 2013
Interior designer Amanda Lavi of RA Design Group has worked on some incredible homes throughout her career. She has designed interiors for famous actors, Grammy award-winning recording artists, and well-known corporate brands.

She graciously agreed to answer our questions about her career, some of her favorite kitchen products, where she sees kitchen trends heading, and what it's like to design for celebrity clients. If you are a homeowner, aspiring designer, or interiors pro, we think you'll find her answers honest, inspiring, and enlightening...

---
Background & Career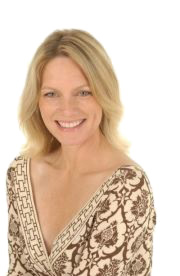 Amanda Lavi
Q:  Tell us about your career; how has it unfolded? When did you first discover your creative talents?
A:  My mother knew she had a potential interior designer when I re-arranged my room by myself at the age of six. That included moving a double size canopy bed by painstaking pushing it inch by inch across the room to its new spot. I studied fine art at UC Irvine before venturing out into the world of graphic design, which I did for about 5 years. Then marriage and kids intervened until my youngest son was 2. I have always worked for myself so I decided that I wanted to start doing interior design.
My first project was for a nursery for a wealthy young couple in Lake Sherwood, CA. That was my springboard into the business.  I learned a lot from other interior designers and I was never afraid to admit I didn't know something and ask questions. I also hired my former showroom rep as an assistant and her expertise was a wealth of knowledge.
I also partnered up with, Rafael Ariztia, a very talented general contractor with an artist's soul. We have been in business since 2003 and he has also taught me a tremendous amount about construction techniques and also how to work more effectively with people. (I can sometimes be a little too nice!) I have done several Pasadena Showcase Houses and that was helpful in getting established in the design world.
I have found that my other passion is architecture and I have been fortunate to have clients who have let me totally re-design their houses after they became dissatisfied with their plans. So a fun weekend for me is walking the framing stages of a house and spending hours working in Revit or CAD on my design for projects I hope to build myself one day soon. Preferably in the south of Chile!
Q:  What geographic areas do you serve? Ever travel or consult with distant clients?
A:  We serve the Santa Barbara to Los Angeles area. The farthest out of state client was in Utah where we did a complete design package for the interior of a repurposed old veteran's hospital that was being turned into luxury condos. A truly beautiful old red brick building with incredible mountain views. There were only two units per floor with 12-foot ceilings. Really a fun project.

---
Recent Design Projects...

Q:  We'd love to hear about the country French kitchen you designed below...
... Can you share any details about the project?
A:  The Country French kitchen started out as a hacked up 70's style wreck we were called in to give it a cosmetic make over. The client had just purchased the home and it was a real mish-mash of styles. The first thing we addressed was the basic layout of the kitchen. We added a prep sink (both husband and wife are cooks), center island, and added new storage and removed a built-in BBQ grill. We re-faced the cabinets, installed new counter tops; new hardwood floors and most importantly added faux "windows" with frosted glass and interior lighting to the existing skylights. These "windows" bring some interest to the ceiling and to cover up the long 70's style skylight shafts. Now the "windows" are pretty during the day with natural light filtering through but they also pretty at night as general ceiling lighting. The client had a lot of treasures that were used as accessories in the space. She was especially pleased that we used her vintage teal shutters on either side of the kitchen window at the sink.
Q:  What projects are you currently working on? Any recent kitchens?
A:  Right now we are working on a new 7000 square foot home in the Santa Rosa Valley area, which is about 1 hour south of Santa Barbara. The home is what I like to call a "modern traditional". The layout and massing of the house are traditional but we have used natural materials in a more reductive modernist way. The kitchen in this project has a stone floor of 12" x 24" French limestone in a running bond pattern. The cabinets are a simple Shaker style, painted white. The back splash is white marble 2 x 3 bricks and the counter top is white marble slab. In the center island we are using the Stages Sink by Kohler. My client is a serious cook and chefs designed this sink. It is absolutely amazing. We are also doing a coffered ceiling of heavy gray beams with modern pendant fixtures. Our big splash of color comes from the turquois plaster on the fireplace wall that anchors one end of the kitchen and serves as the breakfast area.
Other recent kitchens have also been a bit more modern. We have used a really beautiful gray wood flooring from Du Chateau in a Beverly Hills project. In that kitchen we used Silestone's Kensho as the counter top material. It looked great with the Porcelanosa tile walls. We also eliminated the upper cabinets on the range wall and did floating oak shelves stained gray to match the floor.
---
Favorite Styles and Products...

Q:  How do you like to approach kitchen designing? Any favorite styles or genres?
A:  If I were designing for myself, my favorite kitchen is low tech, rustic and Spanish influenced. I love Saltillo tiles, terra cotta, massive wood beams, painted deco tiles and a bit of color on smooth plaster walls. I deplore kitchens that look like you could do surgery in them. My kitchens have to feel and look like the heart of the home not an assembly line for food production. However, being a cook myself I take a "working kitchen" approach to my design.
Q:  How about kitchen layouts?
A:  I don't like cluttering up a kitchen with a bunch of built-in appliances like trash compactors (haven't used one in years), coffee makers, warming drawers or under cabinet refrigerator drawers. While these things do have a place in some kitchens, in general they are costly wastes of space. I love multiple sinks in kitchens that are large enough for more than one.  I hate seeing designers of more moderate sized kitchens waste precious counter top space by putting a vegetable sink in an already small kitchen island when the main sink is just steps away. If possible, I also like to design large landing areas (at least 3 feet) on either side of the range.
Q:  Any particular materials you love?
A:  I love natural products and I especially like wood for island counter tops and kitchen floors. I do use white marble and limestone quite a bit but I make sure that my clients understand the material's limitations. I flat out tell them:  "This will stain. This will etch. This will discolor. But if you have ever been to a fabulous old bar in Europe and seen the patina of old white marble and you love how it looks, then let's go for it!" I also use the man made quartz composite counter tops as well. I like the consistency of color and the consistent size makes planning and pricing easier.
Q:  Do you have any recommendations on appliances and lighting?
A:  I like to use Wolf ranges because they are reliable and classic in design. Right now Thermador makes my favorite refrigerator and I still like Sub Zero as well. I have a love/hate relationship with microwave ovens. I am currently using microwave oven drawers in all of my projects so at least they are out of my sight lines. Honestly, I just use mine to warm up cups of coffee or leftovers for my kids. I don't even use mine for popcorn. Another thing I can't abide is the "Swiss Cheese Ceiling" effect of too many recessed can lights! Horrible. There are so many interesting lighting fixtures that can add dimension and personality to your kitchen. Using too many recessed cans just seems flatly uninspired and lazy to me.
---
Celebrity Clients...

Q:  What is it like designing for famous clients? How did you connect in the first place? How is it different working for them?
A:  The celebrity client is really a group client. You have to work with their business manager, their assistant, their significant other, their children and of course their friends! I must say that celebrity clients are by in large difficult because they usually are so insecure about what they want and they are also so paranoid of getting taken advantage of financially that trust becomes a huge issue. They also see designers as trying to use them to further their own careers, which is sadly true because publication in the main shelter magazines has more to do with your celebrity clients than the actual quality or innovation of your design work. Another problem is they are used to getting things for free and having people work at a reduced rate just to get that celebrity client notch on their belt. I have worked for a few and there is one very kind lady (a multiple Grammy award winner) who stands out as a great client. I think she was easy to work for because most of the time we were dealing with her directly and not through the "gatekeepers". Keep in mind though; it is the gatekeepers who got you the interview in the first place. And they got your name from another gatekeeper!
---
Kitchen Trends...

Q:  What kinds of trends are you seeing in kitchen remodeling?
A:  I see kitchens getting smaller and becoming more well designed with multi-tasking areas. I work in high end residential and in the past, the sizes of some of the kitchens I have been asked to do are ridiculous! I'm not seeing that as much any more. The homes are still large but gigantic islands or even multiple islands are disappearing. I'm also seeing a "quite" kitchen that is almost spa-like in its color scheme. I would venture to say almost "beachy". Pale blues, greens, grays, whites, creams, tans and buffs are the colors that clients are asking for the most.
## End of Designer Interview
---
You can follow Amanda Lavi on Pinterest or contact her through the RA Design Group website.

---
Kitchen Pros: If you'd like to weigh in with kitchen remodeling advice for homeowners, please contact us to arrange an interview. We also welcome you to submit your kitchen remodeling portfolio to our Kitchen Directory.
Homeowners: Love Amanda's style and design taste as much as we do? Check out the galleries of Rustic Kitchens and French Country Kitchens for similar ideas and photos. Also be sure to read our extensive report on Kitchen Trends.